I'm excited to announce that The Pioneer Way has a new t-shirt design that focuses on recycling. The new Reduce Reuse Recycle t-shirt is available in styles for both men and women, so get yours now and help promote sustainable living!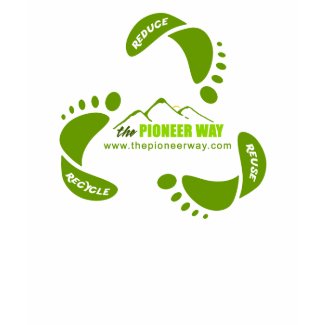 Reduce Reuse Recycle "Made in USA" (Men's)
T-shirt
by
PioneerWay
Make your own custom t-shirt
at zazzle
All shirts are sourced from American Apparel and are Made in the USA, and for those of you that are super environmentally focused, some of the shirts are also made from 100% organic cotton.
If the Reduce Reuse Recycle t-shirt isn't your cup of tea, we also have a great one of a kind original Powered by Bacon t-shirt. Make sure to check them all out!
What do you think about our new Reduce Reuse Recycle t-shirts? Leave us a comment and let us know your ideas for lowering your carbon footprint!